Maker-oni & Cheese (and other fun Charleston finds!)
By Candace Nelson - 5:56 PM
Maker-oni & Cheese




One of the things I love about my community is the amazing events and incredible people.




There are so many cool events happening constantly, and one that I really loved was MESH's Maker-oni & Cheese where they hosted a mac & cheese competition to raise funds for their new maker space.

SO WHY ARE WE DOIN' THIS?

This summer we've had the opportunity to work alongside some inspirational artists and makers. We've heard stories, we've seen beautiful work, and we've had incredible experiences. We need your help to keep MAKESHOP going, because Charleston needs a place for creative people to meet up and share. So come join us (and just a few of our coolest friends) for some cheesy goodness at our MAKER-oni & Cheese Cook-off + Fundraiser -- and make all of our dreams come true!
First of all, the macaroni & cheeses were amazing. One of my favorites is above from
Holler Healthcare Justice
, which had cornbread and honey. They won best flavor!
This one had mushrooms!
This one was vegan and super fresh.
Kayla's was Mexican Street Corn Mac & Cheese!
OMG so good. She got Most Creative!
This one was like little cups with mushrooms!
The Peppi was inspired by Tudor's! Of course, there's pepperoni.
This one was the cheesiest! And it was fabulous.
And here's my plate full of all the macaroni & cheese. Can you say heaven?
Caffe Romeo's Sweet Creamed Corn
Random, but I saw the gelato shop had a new flavor inspired by a farm-to-table dinner, and I had to try it.
It literally tastes like creamed corn. But, so good.
Big Joe's Monkey Fries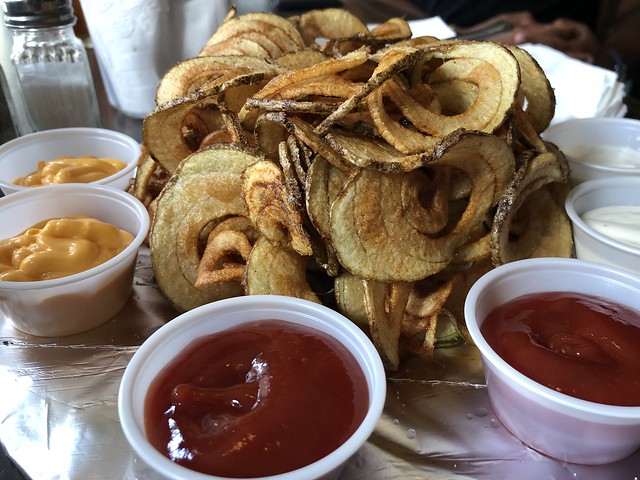 Monkey Fries are just a mess of hand cut curly fries with cheese, ranch and ketchup. It's just too good to not share.