The Cast Iron Cook-Off
By Candace Nelson - 3:00 PM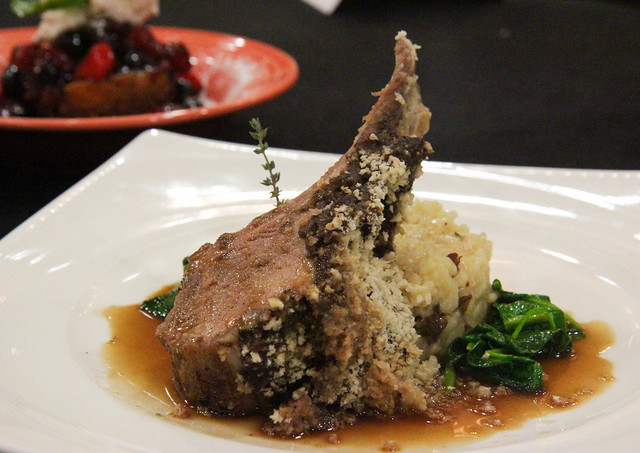 I recently went to The Cast Iron Cook-Off in Charleston for the first time ever, which I'll be writing about more in-depth for Taste! WV Magazine.

The weekend event highlights how food is the centerpiece of traditions and how that rings true in Appalachia. The use of cast iron is significant because it's an authentic Appalachian method dating back to frontier days. The event is a a Collaborative for the 21st Century Appalachia initiative. C21C is a nonprofit organization in West Virginia that seeks to ensure the viability of small farms, rural communities and a traditional way of life.


The weekend event included a Junior Cast Iron Cook-Off (winner: Tug Valley High School). There was also the Tastes from the Mountains Dine Around (which was a ticketed buffet dinner). It included bbq chicken, fried trout, leg of lamb, brussel sprouts, root vegetables, mason jar salads, pork belly, short ribs, and desserts like strawberry and rhubarb shortcake shots, mini pecan pies and bread pudding.


And, then, on Saturday, there was the team culinary competitions, as well as the "Gourmet Small Plates," where you could try small plates from the restaurants competing. It was a big confusing for a first-timer, but it was lots of fun. I sampled a few plates (not enough!) and mingled with lots of folks in the foodie scene in West Virginia. All around, good times!


WINNERS
Grand Champion Cast Iron Cook Off Winner
Jason Fleck, 1863 Grill
Grand Champion Throwdown Winner
Geoff Krauss, Thyme Bistro
Pioneer Award Recipients
Tim and Melody Urbanic,
Cafe Cimino, Sutton, WV
Best Use of Cast Iron
1863 Grill
Best Teamwork
Snowshoe Mountain
Whistle While You Work
Mountaineer Casino
Best Table Presentation
Buffalo Diner
Best Use Appalachian/Regional Produce
Vagabond Kitchen
Best Use of Appalachian/Regional Protein
1863 Grill
Best Use of Appalachian/Regional value added products
Vagabond Kitchen
Best of Show Microbrew
Bridge Brew Works Mountain Momma Pale Ale
Peoples Choice Wine
Heston Farm, "Siggy" White Zinfandel.