Theo Yianni's
is a new-ish Greek restaurant in Weirton that has been receiving rave reviews since its opening. It broke ground about
six years ago
and has been a
real force in revitalizing the community
.
And while you might be scratching your head thinking - "Greek? In Weirton?" It isn't all that surprising to me. There's the
Greek festival
in Weirton, hosted at the Greek Orthodox church. I know of a few Greek families, and
there's a delicious Greek restaurant right across the river in Ohio
. So, there's a framework in which to operate here.
This restaurant is located on Pennsylvania Avenue in a building that I hadn't been to before. There's a bit of parking nearby, so no worries there. The restaurant itself is broken into a few different dining spaces; it looks as though they may have expanded into spaces in the adjoining areas. The interior is simple, but cozy at the same time.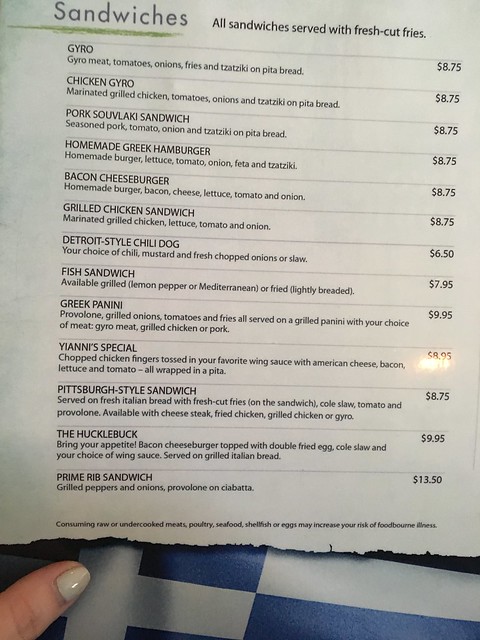 So, we picked a seat, and a friendly waitress approached us with
menus
. Grape leaves, spanakopita, tiropita (Greek cheese pie) and a Grecian roll (cucumber, tomato, feta, tzatziki and balsamic rolled into pita bread) all file under the appetizer section. Greek salads and avgolemono soup (chicken, lemon and rice) are available for lighter fare. Sandwiches include a gyro, pork souvlaki, burgers, grilled chicken, panini, fish, chili dog, and a few Pittsburgh-esque sandwiches. Also, they have a few platters if you're going for the low-carb option.
Well, my guess is they need a little bit of everything to appease everyone, so you can get some authentic dishes here and then burgers for the meat-and-potatoes guy. But, if you're wanting a true taste of Greek food in Weirton, get the gyro, which is a blend of lamb and beef, tomatoes, onions, and tzatziki on pita bread. I also upgraded my fries to the "Greek fries," which are fresh-cut fries with fresh feta and oregano.
Wow, this is GOOD. Tender meat cooked on a
spit
, topped with these spears of tomato, and all drenched in tzatziki sauce - a really good one at that. Everything was fresh, perfectly proportioned and tasty. The salty meat, the slight sweetness of the onion, the creamy sauce, the sturdy pita to pull it all together. And the fries - just look at that mountain of fresh feta. Perfectly crisp with all the light cheese. Delish.
And, then there is dessert. We walked by the dessert case to get to our table - baklava, baklava cheesecake (what?!), and one I had never heard of:
bougatsa
. It's custard baked in phyllo dough topped with cinnamon and powdered sugar. And, it's just as tasty as you'd think - light and delicate but sweet. Very good.
You owe it to yourself to check out Theo Yianni's next time you're in the Northern Panhandle. Let me know how it goes :)
Check out the
video from Eating West Virginia
to get some history of the place.
Grade: A