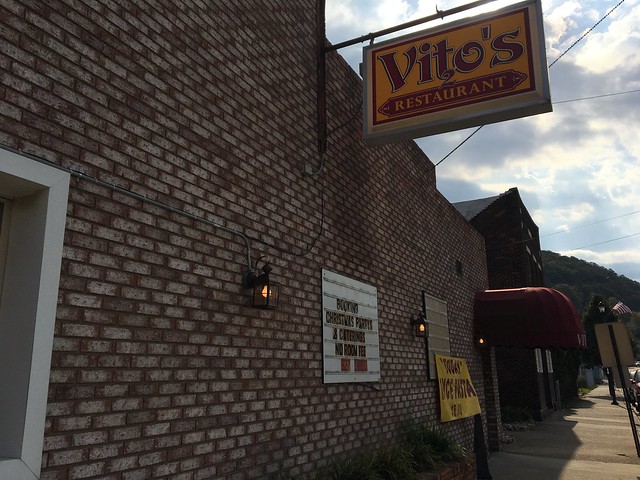 Growing up, we never went out to eat. We couldn't really afford it, and there weren't a ton of options nearby. That, in part, I think fueled my desire to explore and experience new things. But, it also left me without really trying many of the places near my hometown.
Each time I go home, I try to remedy that. There are a few stalwart restaurants in the Wellsburg-Follansbee-Weirton area that date back many, many years. And, I'm slowly trying to tick them off my list as I get the opportunity.
When I was recently in town to see BFF Kaitlynn (!), we went to Vito's Restaurant in Follansbee. This brick building right on the main drag of town doesn't especially stand out, but it does give off the ~Italian~ vibe that is strong through the town.
The first thing I was perplexed by was whatever "AYCE pasta" is. I saw it was their special for the day, and I thought maybe that was named after someone? Nope, I'm just an idiot. It's All You Can Eat pasta.
After we were seated, I looked over the menu. Wings are a big seller, and the pasta looked good, so I went for the gnocchi, which was described as potato dumplings topped with sauce and a meatball. I opted for the marinara, but I was presented with the meat sauce. Oh well.
First, a bit of garlic bread was fine. Nothing too extravagant here.
Then, a house salad. Again, nothing too exciting. Basic.
I also had a lobster bisque, which I thought was actually pretty good. Creamy and rich, if not a bit settled. Definitely sweeter. A light film covered the top from sitting, but the flavor was good.
The main course presented, though, was at least five portions of pasta. See that photo up there? Not bad - a pretty sweet sauce, and the meatball left something to be desired. But overall, not bad. The gnocchi had a little chew to it - which I love. The sauce was fine, if a touch too sweet. But, pretty decent overall.
I think this is a decent local option. I think it lacks a bit of refinement I've come to expect when dining out. The service was a bit too informal, and there were flies buzzing around. Cheap basics like iceberg lettuce or a single piece of once-frozen garlic bread aren't the touches of a fine establishment (not fine dining, just a good meal out). But, was it cozy and filled the tummy? For sure. I liked the pasta sauce, though I know others would find it far too sweet. And I liked that bisque, though I wish it was void of that film on top. So, little things I think could help make it just a touch nicer. Still, not bad.
Grade: B