Chicago, IL Edition: Au Cheval
By Candace Nelson - 10:00 AM
I think we saved the best meal for last in Chicago - unintentionally.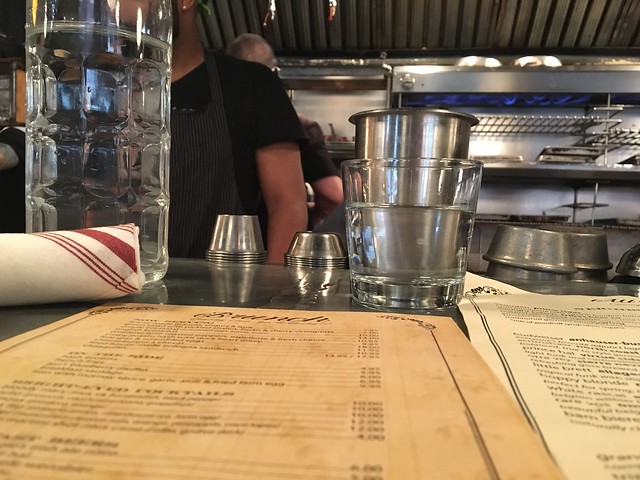 Bon Appetit named Au Cheval the best burger in America, sooooo, of course I'm going here. Check out that write-up here:

There's no shortage of burgers in this country. As a result of The Great Gourmet Burger Boom of 2011, nearly every burger we come across has some sort of pedigree (how many Trotter/Boulud/Keller alum-created burgers do we need?). Can't a burger just be a burger? Yes, and we've found one in the perfect griddle burger at Chicago's Au Cheval.
Sure, Au Cheval chef-owner Brendan Sodikoff has cooked in some top-notch kitchens under guys like Keller and Ducasse, but there's zero pretension at Au Cheval when it comes to the restaurant's burger. What are we working with, here? The first thing you'll notice is the soft, lightly toasted bun from Chicago's Z Baking. And the all-important bun-to-burger ratio is spot on–none of that brioche bun nonsense.
Next: Your single burger is actually packing two patties. If you're brave enough to order a double, you'll have to fight your way through three patties. According to the burger obsessives over at A Hamburger Today, Au Cheval's burger is comprised of four ounce, pre-formed (gasp!) prime beef patties. Nope–no chuck/shortrib/bone marrow custom patty blend happening here.
We liked this burger so much that we dropped by the restaurant two nights in a row post-dinner with our very own Foodist Andrew Knowlton (at his insistence) to sample it. For the money ($9.95 for a single, $11.95 for a double), Au Cheval's burger might be our favorite in the country.
We arrived right at
Au Cheval
at 11 a.m., when it opens. What I didn't realize is how long the line would be before it even opened. They must have opened a few minutes early, because the entire restaurant had been full, and there was a line cycling through for the waitlist. All at 11 a.m. So, long story short, we arrived at 11 a.m., and we weren't seated until about 12:30 p.m. That's how insanely busy this place gets. Fortunately, they text you when your table is ready, so we went across the way to have a beer while we waited.
I impatiently checked what place we were in line, and finally breathed a sigh of relief when it trickled down really quickly. We ran over, and told them we were called. There was a bit of confusion, and I guess their system went down. But, after some brief back-and-forth, we were seated at the bar. This place is quite small, so I can see why there's such a wait.
We were placed right next to the guy who was expediting, since it's an open kitchen, and it was kind of cool. He was a total boss, and I decided that if I were to work in the restaurant industry, I want to be him.
I ordered a "
cheeseburger a cheval
," which is two pre-formed medium-cooked patties with a slice of Kraft cheese in between. The patties are topped with
dijonnaise (lemon juice, mayo, Dijon mustard)
and housemade pickles. I opted to add thick-cut peppered bacon (a fried egg or three-ounce slab of foie gras are also available). All of this is plated on a toasted bun from a local bakery.
It is large, towering, a little messy and very, very good. The drooping mayo mixes with cheese and that thick-cut bacon was to-die-for. Together, it combines for this incredibly rich, tasty burger. Simple, but done well.
We also ordered a side of the crispy potato hash with duck heart gravy. I was so stuffed with the burger, I could barely shovel any of this down. But, it was really good, too. It was a bit salty, but I was all about it. The potato hash was perfectly crispy, and if you want the perfect savory combination of everything in life? Get this.
Grade: A