Brew Keepers
By Candace Nelson - 10:00 AM
One of the newest breweries to open in the state is Wheeling-based Brew Keepers.


Brew Keepers, located behind a single orange door in what looks like a warehouse, is a production craft brewery. So, you can get samples and growler fills here, but no pints or beer to drink on premises.



Organized by longtime Wheeling homebrewer Kevin Ayres and his wife Carolyn, the seeds of this brewery project go back several years. They want to be a part of the booming craft beer market.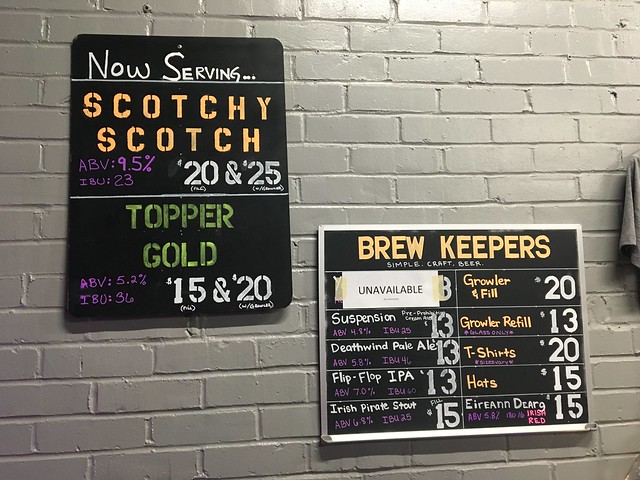 You can find their beer at various local restaurants (including
Morgantown's Iron Horse
), and I was excited to finally get my hands on a whole growler full of it. Once we made our way inside, I saw a staff hanging out and one of the men came to the counter to help us. We tried a few different beers.
The IPA was first they perfected and their flagship. The Topper Gold, a hoppy blonde ale, was quite tasty, but I went with the Suspension, which is a pre-prohibition cream ale. I had never had that before, so I went for it.
Named for the famous bridge built in 1849, this refreshing cream ale with a sweet and malty corn flavor is their take on a Pre-Prohibition style beer that represents history, which is perfect for the ambiance of Tin 202. This new craft brewery is certainly putting a spin on an American classic by combining the two concepts. "More character than your typical American Lagers, but just as easy to drink." (Tin 202)
It is quite good. This pre-prohibition style + American classic is clean and refreshing. Nice malty flavor and easy drinking. Definitely a fan. I think the growler only lasted a day or two. If you're in the area, be sure to stop by!
Read more:
Weelunk
.