3rd Annual Best Chef Cook Off - 2015
By Candace Nelson - 12:00 PM


The 3rd Annual Best Chef Cook Off brought out some of Morgantown's best local restaurants to compete head-to-head to be named Morgantown's "Best Chef" or having the "Best WV Homestyle Dish." The event, which proceeds benefit the Morgantown History Museum, was held Thursday, Aug. 6 at Lakeview Golf Resort and Spa.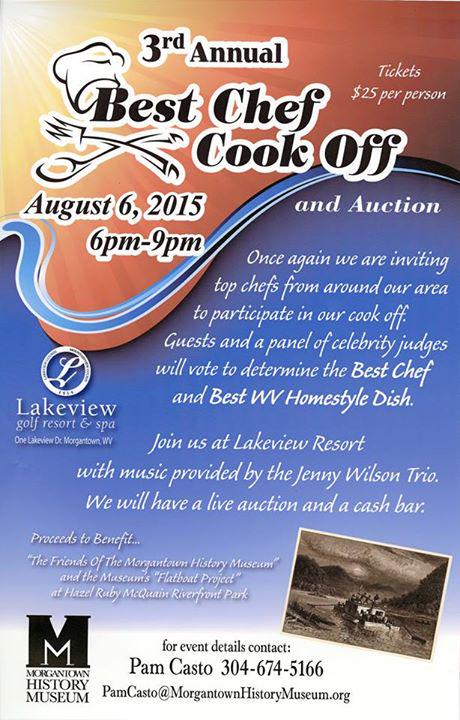 This was actually my first time at this event (
Sher had gone before and I used his photos
), and I only found out about it a few days beforehand. I picked up my ticket ($25) at the museum and got to eatin'!
Tropics - Kalua pork island dumplings (with kung pao sauce, creamy horseradish BBQ, or sweet & spicy mango). Dutch Oven Blackberry Cobbler.
Tropics featured the chef who won the previous two years, Jason Hammack. He was previous with The Lakehouse, but has switched jobs and is currently at a restaurant under the same owner of Tropics. The dumpling that I tried, with the kung pao sauce, was pretty tasty. The cobbler, though, was so good I ended up having seconds at the end of the night.
Preston County Inn - Creamed chicken over a biscuit.
I think this was my favorite dish I've ever had from the Preston County Inn. I do love a creamed chicken, and this was executed perfectly.
Lakehouse - Spinalis ribeye stuffed with gorgonzola cheese, black pepper bacon, fresh baby spinach and arugula, accompanied with spicy blue cheese cream sauce and cajun shrimp.
My cut was a bit chewy, but they certainly went all out with the accoutrements here. Lots of creamy, savory additions here - plus a little twist on a surf and turf.
Sabraton Station - French cut chicken wings (with mild, medium, hot, bbq, honey mustard, Corona, or thai sauce).
This is a simple dish, but tasty! Just two chicken wings, served with a variety of sauces.
Coach's Crab Shack - Saffron rice with Caribbean shrimp and potatoes. Lobster and grits with collard greens and cajun gravy.
One of my favorites of the night. I didn't quite get it at first - it's a little Middle East mixed with southern. But it still centered around seafood, and it was quite delicious.
Lakeview Golf Resort & Spa - Southern fried chicken biscuit with cajun remoulade. Sweet tea.
OK this was my absolute favorite of the night. Lakeview, the home base team here, really brought it. I know it seems like just a basic chicken biscuit, but it was spicy - but not too spicy - with a real kick in the breading, and there was honey oozing from the bottom biscuit. So the sweet and spicy. Plus the sweet tea - which I typically don't even like - was amazing.
Table 9 - Fried chicken with thai peanut sauce, thai basil, cilantro and smoked peanuts.
If there's one thing I can always count on, Table 9 will have the most beautifully plated dish. Think of it as a modern take on a thai fried chicken. Love these flavors.
Iron Horse Tavern - Pork belly pierogi with cherry tomatoes, balsamic and romano cheese.
It seemed a few folks did the sort of dumpling/pierogi route. I loved that Iron Horse listed all the local farms they made this dish with, and everything was fresh.
Atomic Grill - Prime rib in a port wine reduction with figs and cherries, crawfish cake with lemon hazelnut, potato cheesecake and mint pea puree.
I think Atomic wins for most creative. They took some chances. This cut was mostly fat, but the flavors were still on point.
The Dancing Fig - Scandinavian pupusa with braised pork butt, fresh mozzarella and fresh herbs topped with pickled cabbage and sauces. Smoked fish dip with local green tomatoes and fresh dill on focaccia crisp.
Last but not least! I like how they showed two different bites here. And I don't think I've ever had a pupusa. Some good flavors and cool textures.
WINNERS:
Best WV Homestyle Dish: Preston County Inn (Jean-Manuel Guillot)
Best Chef Runner-Up: Coach's Crab Shack (Erikka Hooper)
Best Chef: The Lakehouse (Shane Valentine)